CURRICULUM & STANDARDS
St. John Catholic School provides each student with the opportunity to experience a dynamic curriculum that meets diocesan and state standards. SJCS graduates generally do well when they enter high school. They are well prepared for the rigor of the International Baccalaureate Program at Valdosta High as well the Honors and Advanced Placement Program at Valdosta and Lowndes High Schools.
Many of the graduates of St. John Catholic School have gone on to be valedictorians and salutatorians at the local high schools and have attended colleges such as: University of Georgia, Georgia Tech, Duke, Georgetown, Valdosta State University, Georgia State University, Berry College, Florida State, and the University of California.
In addition, students have been recognized as merit scholars. Students from the school consistently garner large scholarship awards when they graduate from high school.
---
SCHOOL CURRICULUM & SCHEDULE
The Catholic Schools Curriculum Standards have been developed by the Diocese of Savannah in consultation with all the schools in the diocese and is aligned to state and national standards. The curriculum is designed to ensure that students reach a high level of competence in all subject areas.
The curriculum includes the following subjects: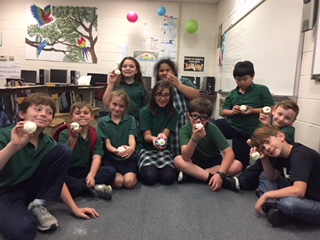 Religion
Mathematics
Language Arts: Reading/English
Spelling/Phonics/Vocabulary
Handwriting
Social Studies/History/GA History
Science
Fine Arts: Art/Music/Band
Computer Science
Library
Physical Education including Health and Safety
Spanish
Students in kindergarten through 8th grade are in school from 7:55 a.m. to 3:05 p.m. Children may be dropped off as early as 7:30 a.m.
Grades K-5 are self-contained with the freedom to place a child for instruction in the grade that best suits his/her needs. Grades 6-8 are in classes with teachers according to the subject area.
---
GRADING SCALE
St. John Catholic School holds students to high standards in regard to academics. The following is the SJCS grading scale:
A = 94-100
B = 86-93
C = 78-85
D = 70-77
F = 69 or below
---
SCHOOL UNIFORMS
Preschool students are not required to wear the SJCS uniform. They are asked to wear clothing consistent with Catholic moral standards, in good taste and decency. Preschool students must wear closed-toed shoes, no light-up or wheeled shoes are allowed. Students are required to wear socks.
Uniforms are required for school grades K-8.
Click here for more information on the SJCS Uniform