St. John Volleyball Team Donates to Family Affected by Breast Cancer
November 01, 2022
By SJCS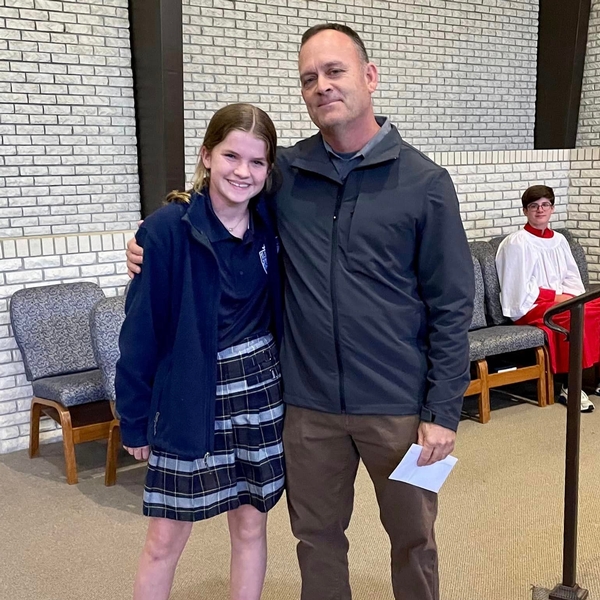 The St. John the Evangelist Catholic School (SJCS) volleyball team recently raised donations to support a family affected by breast cancer in honor of Breast Cancer Awareness Month. During a recent tri-match event, the volleyball team collected donations to benefit a family of five from Tallahassee who recently lost their mother to breast cancer. The team presented a $3,000 check to the Cameron family in memory of SJCS mom Stephanie Nelson.
"In front of their biggest fans - their teachers, classmates and families, the SJCS volleyball team presented a check to a family in need," said SJCS Volleyball Coach Tiffany Mira. "The breast cancer fundraiser was a huge success and we are so proud of the team's hard work. It's been a blessing to be their coach this season and I'm humbled by the girls on the team."
---
St. John the Evangelist Catholic School
1 day ago
Help us congratulate Cheri Carter, our new principal! Cheri Carter is a South Georgia native, and an experienced teacher and school administrator. Carter has been serving as the interim principal since December 2022 and brings more than 34 years of experience to the role. "I knew when I began working at St. John the Evangelist Catholic School in August 2022 as an instructional coach that it was a special place for students to learn and grow," said Cheri Carter. "Our community is extremely lucky to have a school that provides high-quality education in a faith-based setting. The teachers, staff, students, parents, and church community have been welcoming and very supportive and I am honored to have the opportunity to lead St. John the Evangelist Catholic School." Mrs. Carter holds a Bachelor of Science and Master of Education in Early Childhood Education and a Specialist of Education in Administration and Supervision. She served as an elementary school teacher in Brooks and Gwinnett Counties for 19 years and as an elementary school administrator for 15 years, also in Gwinnett County. Since August 2022, Mrs. Carter has served as an instructional coach at St. John the Evangelist Catholic School before being named interim principal in December 2022.
---
---
---
---
---
---
---
---
---
---