St. John Catholic School Receives iPad Donation
October 18, 2021
By SJCS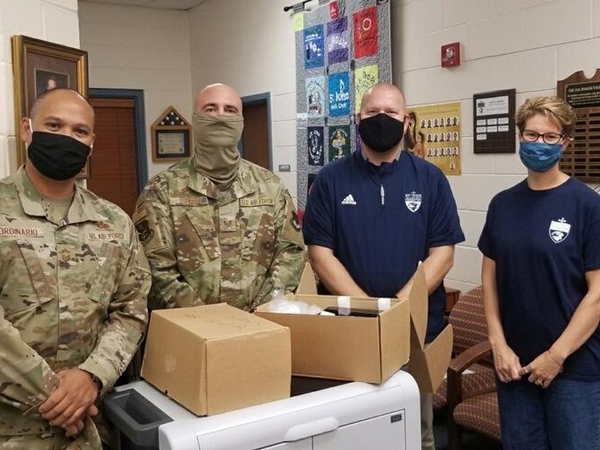 School Increases Technology Through Governmental Program
Valdosta, GA – St. John the Evangelist Catholic School (SJCS) recently received more technology for in-class learning through the United States General Services Administration's Computer for Learning Program (CFL). Moody Air Force Base members Chief Master Sergeant Mauro Ordinario and Technical Sergeant Timothy Turner helped the school complete the process to receive 32 iPads through the program which helps make modern computer technology an integral part of every classroom.
"We are thankful for this generous program which allows us to continue providing innovative learning and current technology to all of our students," said SJCS Principal Vito Pellitteri. "In addition to our two computer labs and Chromebooks in the classrooms, these tablets will be another tool our teachers can use to help students achieve their academic goals."
The Computers for Learning Program and its Executive Order of "Educational Technology: Ensuring Opportunity for All Children in the Next Century" provides computers and related peripheral equipment to schools and nonprofit organizations that they have in excess. For more information on this program and how to qualify, schools can visit https://www.computersforlearning.gov/.
---
St. John the Evangelist Catholic School
1 day ago
Help us congratulate Cheri Carter, our new principal! Cheri Carter is a South Georgia native, and an experienced teacher and school administrator. Carter has been serving as the interim principal since December 2022 and brings more than 34 years of experience to the role. "I knew when I began working at St. John the Evangelist Catholic School in August 2022 as an instructional coach that it was a special place for students to learn and grow," said Cheri Carter. "Our community is extremely lucky to have a school that provides high-quality education in a faith-based setting. The teachers, staff, students, parents, and church community have been welcoming and very supportive and I am honored to have the opportunity to lead St. John the Evangelist Catholic School." Mrs. Carter holds a Bachelor of Science and Master of Education in Early Childhood Education and a Specialist of Education in Administration and Supervision. She served as an elementary school teacher in Brooks and Gwinnett Counties for 19 years and as an elementary school administrator for 15 years, also in Gwinnett County. Since August 2022, Mrs. Carter has served as an instructional coach at St. John the Evangelist Catholic School before being named interim principal in December 2022.
---
---
---
---
---
---
---
---
---
---