School News
Posts Tagged "private school in valdosta"
November 15, 2022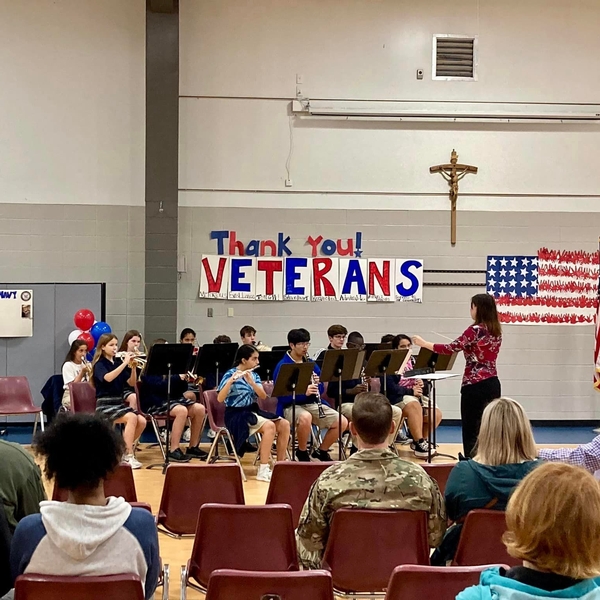 The students, faculty and staff of St. John the Evangelist Catholic School recently honored veterans and active duty members of the military at a special reception Thursday, November 11 2022. The special event included a patriotic procession, reciting of the Pledge of Allegiance, letters to veterans, the Armed Services March performed by the school band and refreshments.
"Many of members in our SJCS community have served or are currently serving in the military and we felt it was important to say 'thank you' to them in a special way," said SJCS Principal Vito Pellitteri. "Our Veterans Day program demonstrates to our students the importance of service and showing appreciation to others."
November 01, 2022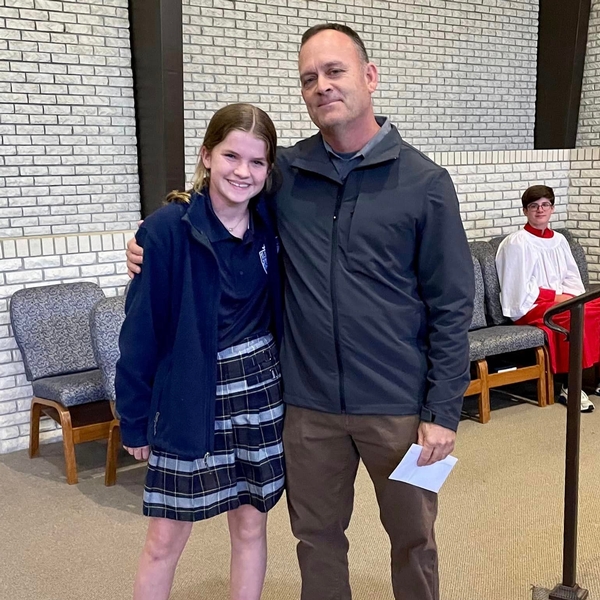 The St. John the Evangelist Catholic School (SJCS) volleyball team recently raised donations to support a family affected by breast cancer in honor of Breast Cancer Awareness Month. During a recent tri-match event, the volleyball team collected donations to benefit a family of five from Tallahassee who recently lost their mother to breast cancer. The team presented a $3,000 check to the Cameron family in memory of SJCS mom Stephanie Nelson.
"In front of their biggest fans - their teachers, classmates and families, the SJCS volleyball team presented a check to a family in need," said SJCS Volleyball Coach Tiffany Mira. "The breast cancer fundraiser was a huge success and we are so proud of the team's hard work. It's been a blessing to be their coach this season and I'm humbled by the girls on the team."
September 12, 2022
St. John the Evangelist Catholic School Students Score Higher than National Average in All Subjects
Saint John the Evangelist Catholic School (SJCS) recently received results from its Fall 2022 MAP testing. The school conducts testing three times a year, Fall, Winter and Spring, to measure achievement and growth of its students in kindergarten through eighth grade in the areas of math, reading, language usage (second grade through eighth grade) and science (third grade through eighth grade).

Fall 2022 MAP testing results show that SJCS students score higher than the national average in all four areas: math, reading, English/language arts and science for all 31 of the subject and grade level combinations tested.

"I can't put into words just how proud I am of all of our Eagles in continuing to score higher than their peers nationally in all four subject areas," said SJCS Principal Vito Pellitteri. "This confirms the dedication our teachers have to provide students with a strong academic foundation, continuing the tradition and reputation SJCS has for developing high achieving students."