Teacher Takes Home $10,000 from Annual Reverse Draw
March 14, 2022
By SJCS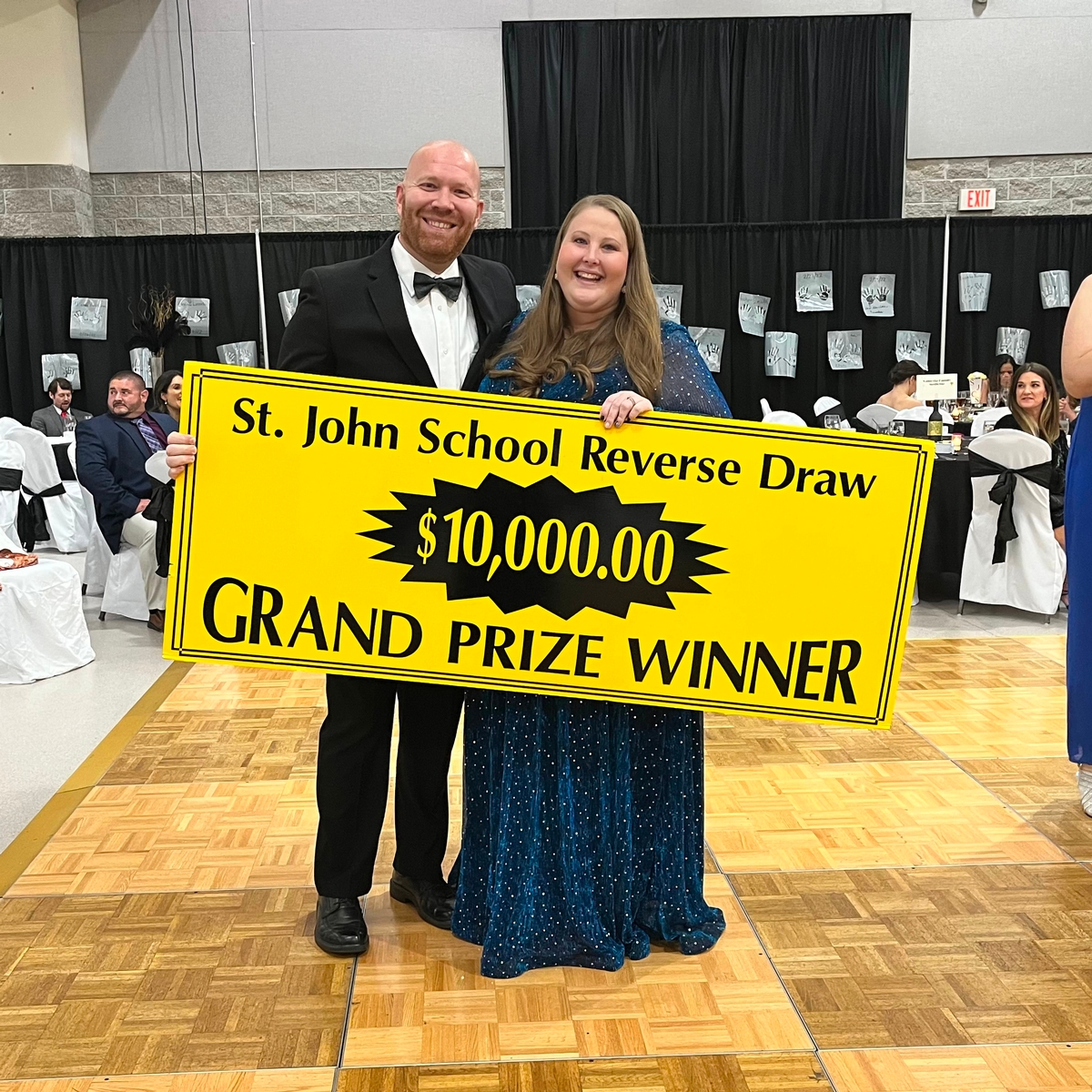 Black Tie Fundraiser for Local School
St. John the Evangelist Catholic School (SJCS) recently hosted the 24th Annual Reverse Draw and Gala. This year's Hollywood themed event included dinner, music, dancing, door prizes, a Steel's Jewelry raffle and a chance to win $10,000.
The night culminated in giving away $10,000 to a lucky ticket holder. SJCS Spanish and Religion Teacher Stephanie Valpuesta was the last one standing in the Reverse Draw that night and took home the grand prize. The event is SJCS's largest fundraiser of the year and helps provide tuition assistance to students, fund community service projects, and supplemental classroom materials. This year's Reverse Draw and Gala raised more than $50,000.
Event Sponsors Include: Georgia/Florida Excavation & Land Development, LLC in Loving Memory of Chris Williams, Sam Dennis Law, Dr. & Mrs. George Sidney Staton, Traditions Flooring, Ben & Kim Mackey, Valdosta Family Medicine, David & Donna Nolan, Synovus, Mike & Lisa Murphy, Katerhien Gonos, Hester & Morris Orthodontics, Steel's Jewelry, Bill & Terri Filtz, Universal Roofing & Remodeling, Pellitteri Family, Gladwin Vaughn Architecture, Century 21 Realty Advisors, Tift-Moody Family, Gladwin Family, Hamilton Estate Planning, Habits of Health with the Hunters and Jonathan & Katie Parrot.
---
St. John the Evangelist Catholic School
1 day ago
Help us congratulate Cheri Carter, our new principal! Cheri Carter is a South Georgia native, and an experienced teacher and school administrator. Carter has been serving as the interim principal since December 2022 and brings more than 34 years of experience to the role. "I knew when I began working at St. John the Evangelist Catholic School in August 2022 as an instructional coach that it was a special place for students to learn and grow," said Cheri Carter. "Our community is extremely lucky to have a school that provides high-quality education in a faith-based setting. The teachers, staff, students, parents, and church community have been welcoming and very supportive and I am honored to have the opportunity to lead St. John the Evangelist Catholic School." Mrs. Carter holds a Bachelor of Science and Master of Education in Early Childhood Education and a Specialist of Education in Administration and Supervision. She served as an elementary school teacher in Brooks and Gwinnett Counties for 19 years and as an elementary school administrator for 15 years, also in Gwinnett County. Since August 2022, Mrs. Carter has served as an instructional coach at St. John the Evangelist Catholic School before being named interim principal in December 2022.
---
---
---
---
---
---
---
---
---
---