St. John Volleyball Team Raises Donations for Staff Member Affected by Breast Cancer
October 17, 2023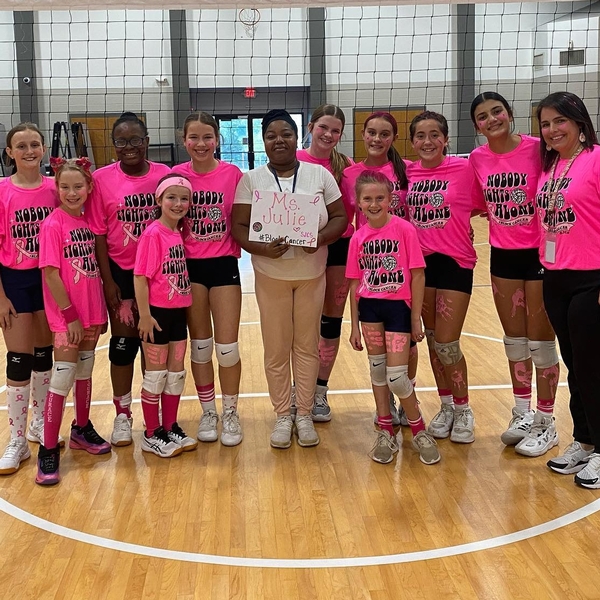 Check Presented in Memory of SJCS Parent
Valdosta, GA – The St. John the Evangelist Catholic School (SJCS) volleyball team recently raised donations in honor of Breast Cancer Awareness Month. During a recent match, the volleyball team collected donations to benefit a SJCS staff member affected by breast cancer. The team presented a $1,300 check to the fellow Eagle family member in memory of SJCS mom Stephanie Nelson and all those battling breast cancer.
"At the heart of the game, our SJCS volleyball team displayed not only their athletic ability but also their big hearts," said SJCS Volleyball Coach Corey Wolford. "With all of the SJCS teachers, classmates, and families cheering on, the team came together to help a fellow Eagle fighting cancer."
The SJCS volleyball team raised $1,300 from the money raised at the breast cancer fundraiser game, in addition to bake sale donations at school and after Mass at St. John the Evangelist Catholic Church.
About Saint John the Evangelist Catholic School
St. John the Evangelist Catholic School, located at 800 Gornto Road in Valdosta, Georgia, provides students Pre-K 3 – 8th grade with the highest quality education in a Christian setting. The school offers electives including Spanish, digital arts, music, band, art and computers as well as religion, in addition to extracurricular activities like basketball, soccer, volleyball, and student council. For more information, call the school at (229) 244-2556 or visit sjcsvaldosta.org.
###
SJCS Volleyball Donation - SJCS Volleyball team present a check for $1,300 to SJCS custodian Julie Hier who was recently diagnosed with breast cancer. The team raised funds during a recent game as well as bake sale donations at the school and Church.