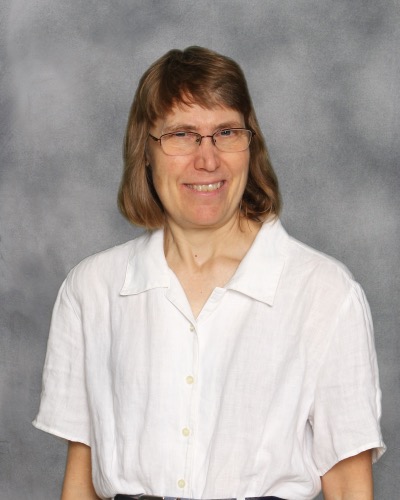 Pamela Rickman
5-8 Social Studies/6-8 Religion
Groups: Upper Grades
Employed Since: 7/30/1995
24 Years Experience At School
Degrees
College

Rollins College

(1984)

Post-graduate

University of Connecticut

(1990)
BIOGRAPHY
Pam Rickman has been part of the SJCS "family" since the elder of her own two children began kindergarten in 1994. She joined the faculty in 1996, first as an elementary paraprofessional. The middle-school social studies & religion position -- for which she had training (M.A. degree from University of Connecticut, B.A. degree from Rollins College) and experience (5 previous years in Diocese of Norwich, CT Catholic Schools system plus Massachusetts public school system)—opened for her at SJCS in 1998. She has held that position ever since.
She enjoys watching her students grow in faith, knowledge, cognitive ability, and grace across their 3 years of time with her. She hopes that she helps to foster that growth, planting the seeds that God will water.
Outside of school Mrs. Rickman finds joy in time with her husband, grown children (and grandbaby), and extended family; cooking; exercise (walking and lap-swimming); singing in the church choir; reading; and occasional travel. Her favorite travel destination thus far was Ireland, but she hopes to someday gain first-hand knowledge of other places she knows now only through secondary sources.